Woo Hoo! It's the day all of us digi scrappers wait for....Digital Scrapbooking Day! It's Kim here bringing you all the goodies for today and this weekend! So grab your coffee and sit back and enjoy the read! Bella Gypsy has lots of giveaways and a HUGE sweet deal planned for the best weekend! The designers at Gotta Pixel are having a blog train too, so keep reading to find out more!
Are you on Facebook? Do you "like" Bella Gypsy? If you don't, then you are going to want to! You can click on the Facebook link at the top or click
HERE
. While you are at it, why not sign up for the newsletter too! Tab and Lena are going to be starting a brand new newsletter very soon! There are going to be lots of giveaways on Facebook this weekend...coupons for free stuff that you won't want to miss!
Did you see the peek that was made yesterday for the HUGE collection that Bella Gypsy is releasing for DSD? Make sure you leave a comment by noon today and the whole collection could be yours! That is a sweet deal!
Now that DSD weekend is finally here, I can show you the collection and tell you that the Bella Gypsy store is
40% off through November 6th
! Now is the time to clean out those wishlists and scrap with those kits! Be sure to visit the Bella Gypsy store at
Gotta Pixel
or
A Cherry on Top
.
This Bliss Collection includes 6 amazing kits and for a short time, you will get the alpha pack free with your purchase! The alpha pack includes 4 complete alphas that coordinate with the collection!
Let's take a closer look at each kit!
There is also a HUGE Sketchology pack that is hitting the stores today....16 templates in all! WOW! You can also pick up each template pack separately!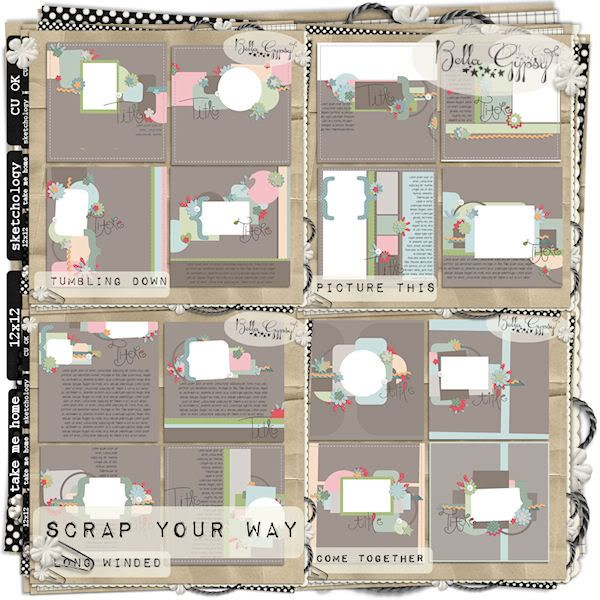 That's not all! I told you there were some sweet deals happening this weekend. In addition to the collection giveaway and random Facebook coupon giveaways, one lucky winner will win a $25 gift card to the Bella Gypsy store! Here's how!
So...from now until Sunday night, make a purchase in the Bella Gypsy store and you could win a $25 gift card to their store! There will be one lucky winner chosen randomly on Monday!
Now for the GP Blog Train information! Several designers at Gotta Pixel have put together and blog train for you! The train departs on November 5 and ends on November 6th! Make sure you come back tomorrow to check out Bella Gypsy's piece!
I'm going to close for now! I have tons of scrapping to do and lots of games to play! See you next week with more goodies!
Happy Scrapping!
Kim