Hi Everyone! Kiana here. I am back from a week of camping fun! Well...most of it. The pouring down rain on that day we wanted to pack up and come home was not so good. Ended up coming home a day late. Oh well. Guess that is just part of camping. Loved hanging out with my family but I am really glad to be home. I was missing everyone here at Bella Gypsy! I feel like I have missed so much in the short time I have been gone.
I love the kit I get to show you this week. I know a lot of little boys who love trains. Even some big boys too! My husband still loves electric trains! If you have any little ones in your house who go crazy for trains this kit is perfect for you. It is called "Chugging Right Along". You can find all three pieces of this kit in the $1 Pixel bin this week!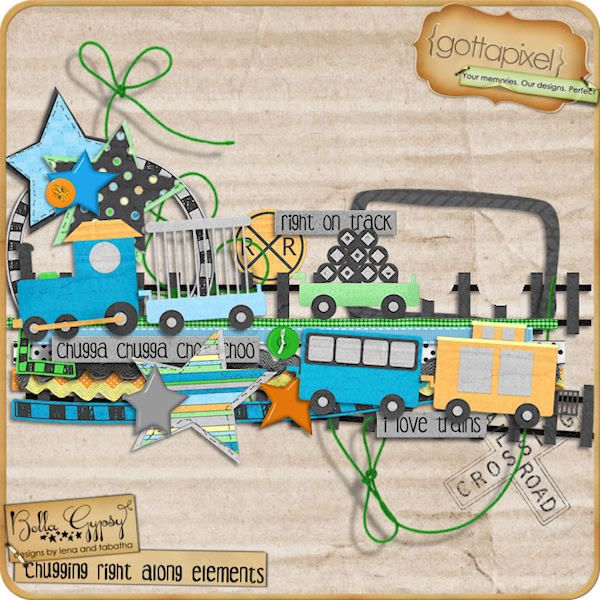 We also have a coordinating Sketchology template for you in the new $2 Pixel bin today. It is called "Sketchology: Right On Track". This is a great deal for these cool templates so grab them while you can!
Here is another FABULOUS kit that just came out. It is called "Love That Boy". This is a collaboration between Bella Gyspy and Graham Like The Cracker! I think it is just amazing, but I have loads and load of boy pics to scrap so I can get a lot of use out of this kit! This kit is available at Gotta Pixel in Jen Graham's store (GLTC). Scroll down to Monday's post to see all the layouts that our amazing creative team made with this kit!